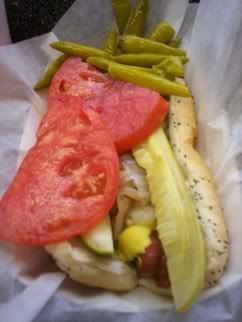 the highlight of my entire weekend was indulging myself in this hot dog also know as a red hot in chi-town. anyone who will put grilled onions and slices of tomatoes on my
red hot
(when in rome...) is ok in my book. BUT does anyone know where i can find hot dog buns that don't get soggy? appropriate additions to the red hot cause the bun to crumble under pressure. i quickly got over the soggy bun fiasco by drowning my frustrations in an order of cheese fries.
the rest of the time i had to remind myself that i was not living in war torn hezbollah, i was still in fact in the peaceful usa. the air show was this weekend, so there have been military planes flying over for the past 5 days. no bueno when my cell phone only works on the balcony and the planes are so loud they are breaking the sound barrier.
also came close to death a couple of times. due to the airshow, traffic was a nightmare and the walk signals were incorrect, except i didn't know that. i would take off across a street and get hit with a barrage of honks! i didn't know...i just wanted to catch the bus to the weiners circle! then yesterday the fire alarm went off in our building, and i suspected it a false alarm until two fire trucks and a fire escape(the actual ford car) showed up, sirens in tow in front of our building. i could escape down a ladder, bc i live balcony side, but i couldn't figure out what i would take with me.
probably our lap tops and the wedding invitations. i'd be a dead woman if i didn't save those! as of now...34 down, 1216 to go. (i'm not being lazy...my pen ran out and i went on an unsuccessful 3 hour search for more...but that's another story)