i hear that i'm missing the rumored
white christmas
in chicago. for about 30 minutes of my marathon christmas shopping on wednesday and thursday it was in fact merry and bright.
i'm celebrating christmas in texarkana, texas for the 25th time. every year i claim it's my last, but maybe next year i'll make good on my word. christmas 2007 in hawaii. anyone can join me if they like, if not i'll spend it alone. actually...i'm never alone with a beach and a festive beverage.
it was no small task getting here. cayce and i arrived at the airport 4 hours early for good measure. as you can see from the picture, every flight out of o'hare was delayed or cancelled. fortunately for us, we need very little to keep us entertained. especially after the night we'd had two nights before. it kept us laughing for many hours, and so did reviewing the pictures.
i've had a lot of family time since i've been here, due to the fact that i know very few people here, and it's been nice. to keep tradition i went to the movies with my aunt and uncle and saw
we are marshall
, i've eaten lots of food around tables where some of the most entertaining stories collected throughout our lives are shared and i've taken many pictures to try and capture a memory of what i'm experiencing now and have for 25 years. here are all of us after lunch christmas eve.
the girls...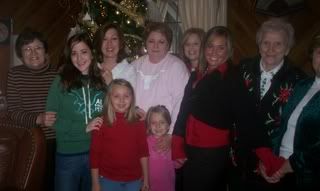 the boys...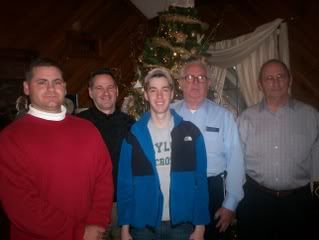 the only person not picture is my beautiful aunt carolyn. and i mean it when i say beautiful. when my uncle first introduced carolyn to my pop many years ago the story goes that he started crying because she was so beautiful.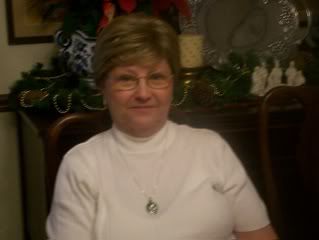 in 1984 my uncle ross and aunt carolyn began collecting the snow village to out do all snow villages. it's quite an overwhelming, bodacious display that will take your breathe away. it takes my uncle about a month to assemble, and he says it comes down a lot quicker. i tried to take pictures to do it justice, but i'm not sure if there is a big enough lens in the world. i myself scarcely be considered a trinket collecting type, but even i was amazed by this collection, and these are hardly trinkets.
the most expensive piece in their collection. it was released in 1984 and discontinued in 1984.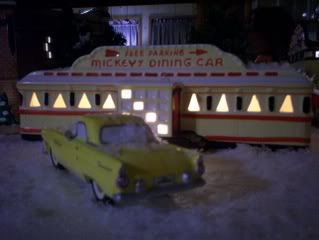 the den display. the houses inside the bureau are not lit up, but at least they made an appearance.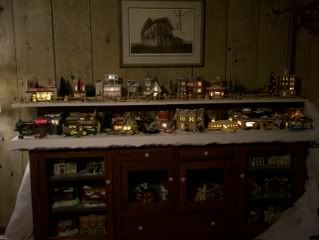 the sports display on the coffee table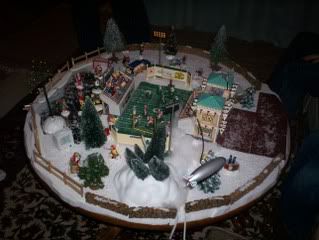 the elvis display in the den serenades with blue christmas.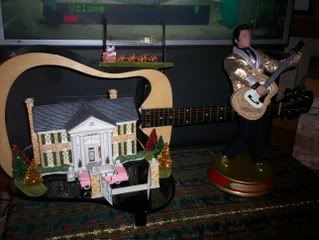 various sections from around the house...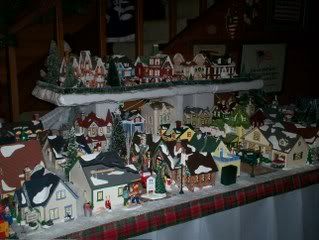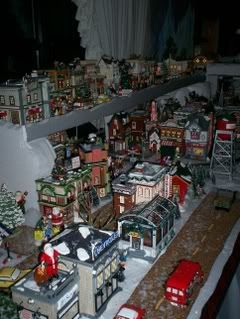 the family admiring the hard work...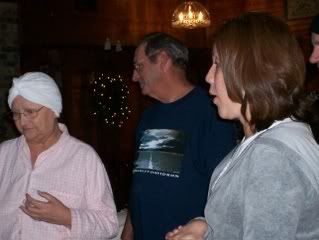 and the poem my uncle wrote to accompany the "village." i say "village", because there are probably towns in texas smaller than this collection. i don't have an exact count of how many houses are displayed, but they've run out of house space to even display many of the houses.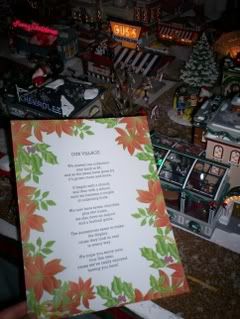 the poem reads...
Our Village
We started our collection
way back in 84
and as the years have gone by
it's grown more and more.

it began with a church
and then with a school
soon we became a couple
of collecting fools.

we now have seven churches
plus two trains
we also have an airport
and a football game.

the accessories seem to make
the display
'cause they look so real
in every way.

we hope you enjoy your
tour this year.
'cause we've really enjoyed
having you here.
-VRJ, Christmas 2006
merry christmas to all of you. of hope your days are merry and bright and if possible your christmas' are white=)
i love you.