2005 is here, and we rang it in right. this year definitely surpassed last years festivites.
this is what i looked like at the end of 2004 and the beginning of 2005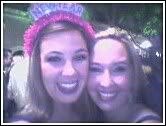 that's me and cayce with our festive party hair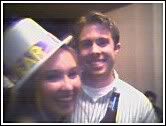 and me in a party hat with kyle
what a year this has been. i've been thinking about this entry for a couple of days, thinking about where i've been, what i've done, and what's happened this year, and i'm overwhelmed by all that has helped make up the past 365 days of my life.
the beginning of 2004 was a true new beginning. i should have expected it to be a life changing year, but if you had of asked me on dec. 31 last year i would have never in a million years been able to guess how much. it started with relationships ending and a close family member passing away. it was my first experience with death, and even though it happened in december, the emotion of it all stuck with me for a while. actually, it's always present.
learning how to deal with broken relationships probably could have been the constant thread in my 2004, but dealing with a death was a much different experience. it's been frustrating and draining when you realize you can not talk to that person, see that person, laugh with that person...etc. fortunately, memories fill my mind and keep me going.
as far as the common thread running through my life, i could give you a handful of stories of relationships in my life that have been broken somehow this year. i think no matter how stable i feel in my life and in my relationship with the Lord, there is still a lingering sadness in my heart for my friendships that have taken different paths or have been cut off completely. when do you come to an acceptance of the relationships new role? can you ever? i've found that it's hard for me to grasp how you can be expendable to people, or unimportant, or not good enough.
i have been blessed with so many wonderful friends, so in no way do i want to sound unappreciative or that i'm complaining. i could go on and on for hours telling memories i have of each of them. i have come to realize that some friendships only last to a certain point and some friendships are seasonal. on the flip side i believe that there are a few friendships that are forever. this is the type of friendship i long for each friend i encounter in my life, but i have learned this year that forever isn't for everyone. perhaps in 2005 i'll learn what the old song means...should old acquaintance be forgot and never brought to mind...
2004 was a big year for change, mostly with the change of my job. work took on a whole different meaning for me, and i gladly embraced the change. i have met so many amazing people, and it has definitely showed me how truly big the Lord is, and how in control He is and how out of control i am. I saw that the Lord specifically orchestrated my life to be exactly the way he intended, and i could not have imagined a better way!
those were the big things of my year...here are the highlights...
~the Lord opened doors, and i began working with youth kids. For the first time in my life i went on a
mission trip
with them.
~i took a
fabulous trip
. when i think about new york my heart literally flutters. i love that place from the depths of my soul. is it weird to love a city that much?
~not only did i travel for pleasure, i traveled for business. luckily i got to travel to dc and see a few friends along the way. i wanted to post those pictures here, but photobucket is experiencing difficulties. i will post them.
~moved into a great townhome. we have the cutest sitting room and the perfect deck, especially if that dog isn't outside!
~attended some sporting events...dallas stars, baylor/ut football, us open tennis tournament. met some sports people...mack brown, darrell royal, and of course...ian crocker (olympic gold medalist). all ut sports people...
~began a bible study with 4 of my other friends. this is one of the highlights of my week, and i'm so blessed by our meetings. i'm glad we actually went through with this, and i hope we continue into 2005.
~spent 3 of the best days on my life relaxing on cocoa beach with two of my favorite girls and lots of mcdonald's!
i'm sure i'm missing a ton of stuff, but for now this is what i can come up with. 2004 was an interesting year, and i expect nothing less from 2005. hopefully i can pack up all the memories of this year, learn from them and allow them to mold me into who i am supposed to be.
i heart you.