Two weekends ago we went to Waco for the Super Regional. That weekend was the turning point in my addiction to baylor baseball. I didn't even need a magazine to get me through the games! at the beginning of this game i was saying things like charge the plate! by the end of the weekend i knew what a 6-4-3 was...a double play for those who don't...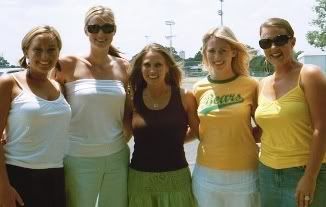 The girls with the Godfather!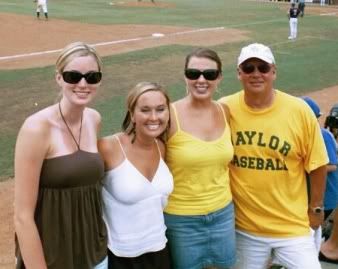 Most people are taller than me, but this guy is enourmous!! he is one of baylor's new basketball recruits from africa! i think he's chewing an entire steak in the picture.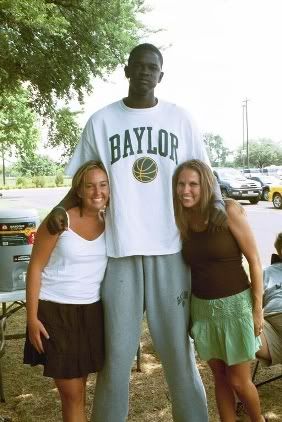 When the boys won they took a victory lap around the stadium. Some people poured champagne on them, many cheered and some girls on the front row gave them some cleavage to look at...guess which girls?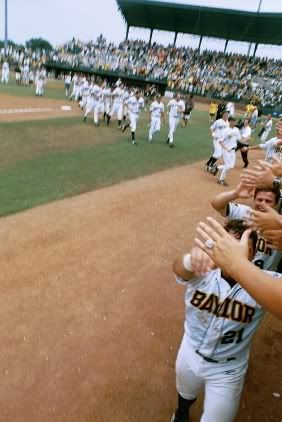 Being the new fan that i am, i had to have my picture taken with my favorite player! I think he plays with more heart than any of the other guys on the field. I know there are many moms and fans that would disagree, but heart heart heart all over the field!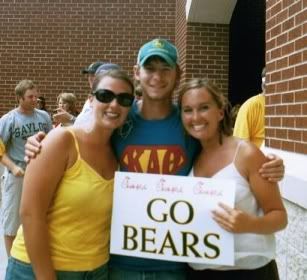 We made the most spontaneous decision of our lives...set out on an intranational road trip. jaimie kept saying, "i've never been on an international road trip before." and i was like well you're not going on one today! notice that there is no sign of a suit case or a map in the back...
we successfully executed the best surprise ever! This was us after our visit to the alumni tent where they told us we would have to pour our beverage into a glass so no one could see it. out of sight out of mind. also notice how quickly we pulled together outfits! team colors and everything!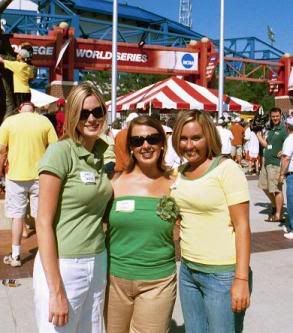 next stop...tailgating with the boys. my fiance slipped in the back of the picture as well.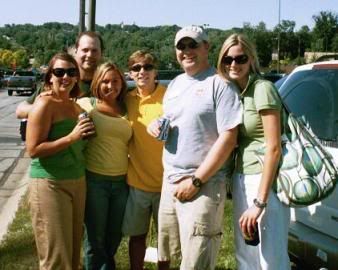 the girls inside Rosenblatt Stadium. No wonder espn wouldn't leave us alone...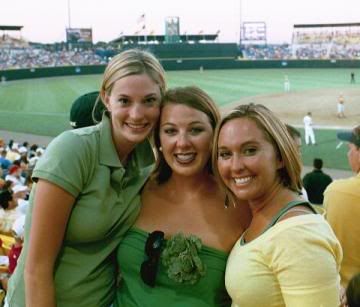 ESPN kept mentioning the A-List crowd at the game, and being the suckers for celebrities that we are, we took advantage of the situation. Coach was sitting right behind us, so i turned around and said, "Hi, Coach...i know this is nerdy, but will you take a picture with us?" and she said in her husky louisiana accent, "Y'ALL WANT ME TO TAKE A PICTURE OF YOU OR WITH YOU?" no ma'am...with us...please don't make us run line drills....
and quarterback for the san diego chargers and brother of one of our friends...drew brees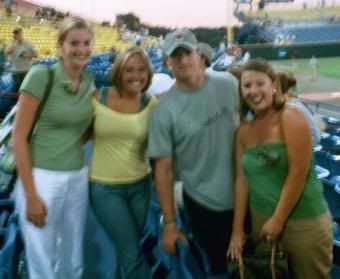 i believe in love at first sight. in one weekend i went from reading magazines at games to road tripping to the college world series. i think we're even considering season tickets...how did i let myself fall so hard??