my time in california is quickly coming to an end. i can't believe three weeks has gone by so fast. i thought i would be way more homesick than i am right now, but mostly i'm just closet sick. i can NOT wait to get back to my own closet so i can wear my own clothes and my own accessories and my own shoes. i know it sounds silly, but i feel like i've been wearing the same thing for 21 days straight and the only outfit i get to change up are my pajamas.
yesterday i was outside all day talking to customers. i always hear lots of different things, usually someone comments on "ya'll" or my accent, but yesterday a lady drives up and says, "Oh my gosh, you look just like sharon stone!" sharon is old, but sharon is hot. do i look 20 years older than i am or do i look hot?? after careful review...sharon ain't got nothing on me!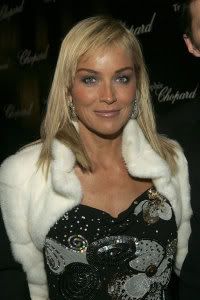 things i am most looking forward to upon arrival in austin, texas.
-my couch and my dvr. oh my gosh how i've missed you!!!
-wearing my big earrings
-a big glass of wine
-and seeing all my lovely friends!