10am tomorrow morning will mark the end of my first complete week. it has been full of many outings, meeting new people and searching for that all important job. it has been so fulfilling to me. i find myself walking down the street or sitting on the train, and i just can't help but giggle. i'm here! i did this for myself and it was the absolute perfect decision. it's beginning to feel less and less like a vacation as i transition into a more scripted routine.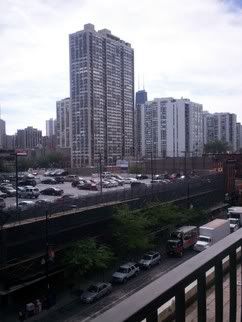 our view of chicago from the porch
i get up early, have my coffee on the porch, respond to emails. i've also had several promising meetings about jobs and already have some good things lined up. i feel so good.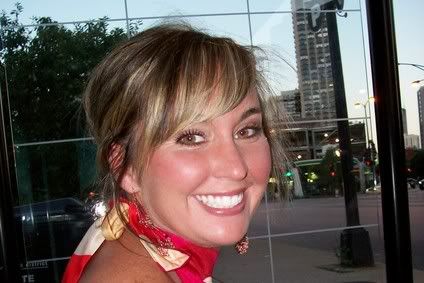 lest you be confused...there has also been plenty of fun! we've drank margaritas, done brunch, gone to a housewarming party, hit up state street for shopping and of course been to the beach. i don't think i need to even mention the dancing.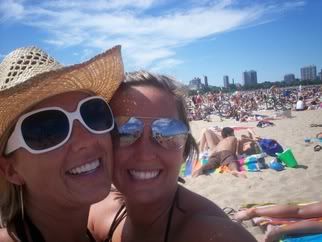 north ave. beach...a nice girl wouldn't rub it in, but it was maybe...maybe in the 80s. needless to say we never broke a sweat and i'm not a nice girl.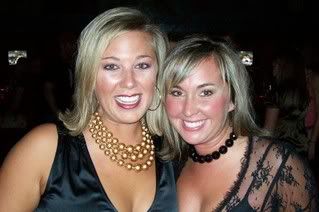 tonight cayce and i decided to go exercise and take a walk to explore the city. complete with our
mary kate and ashley do exercising
outfits. cayce's head band matched her tank and mine matched my sports bra. it's things like this that make people confuse us for sister. without fail we are stopped at least once on the street everyday and asked if we are sister or twins.
"which way should we go?"
"well what time does treats close?? oh crap it closes at 10."
to be fair...it's fat free frozen yogurt...until you add all the good stuff! but if our new friend "C" won't chase us down the street, then it might be just the motivation we need to get ourselves in shape!