For me a trip to Texarkana isn't complete if I don't make a special trip to Uptown Antiques, Downtown Flea Market. I discovered this jewel of a store 6 years ago. It was the summer of my junior year of college and I was about to move into my very first unshared room in an apartment. Previously I had shared a room with my college roommate, Katy, for 3 years on borrowed furniture from the dorm and the village. Of course that kind of thing is ok for college students, because you're young and do stupid things, but can any of you imagine living in an apartment now that was already furnished? Ick!

All this said to say, I needed a bed and I had a shabby junky style, so I headed over to the Uptown Antiques, Downtown Flea Market and found a beautiful headboard and foot board hanging on the wall.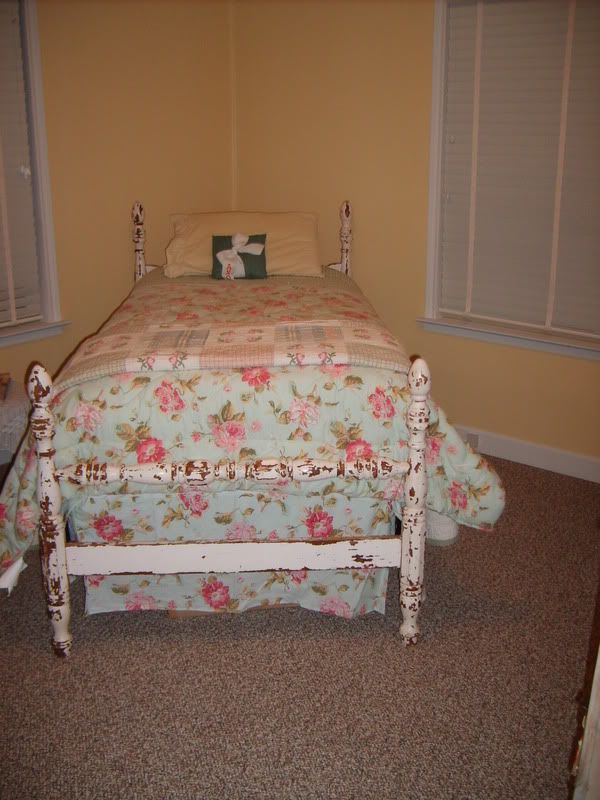 The Junk~Tastic bed cost me a grand total of $35. It now makes it home in Allie's spare bedroom and I just love when I visit and get to sleep in my old junky bed again. Isn't it just perfect there? I can tell my bed is very happy now which makes it very hard to ask for it back. Except I bought two shabby chairs there back in May that will go with this bed perfect and I'm thinking one day the three of them might have to meet under my roof.
The other day Justin and put on our digging gloves and got to work. I think if I had the time and the money I could do some serious damage, but luckily I was there an hour before they closed and their prices always reasonably coincide with my cheap nature.
In one of the rooms I found this beautiful table cloth folded nicely in the corner by some old rickety fans. I picked it up and instantly loved it, but shied away from the $12 price tag because it's so close to Christmas. Ten minutes later I came to my senses and the table cloth never left my arms.
It has a few stains on, but I wouldn't dare wash it! I think it shows the mileage that this cloth has seen and makes me wonder about the people who have pulled up chairs round it's table.
As you can see, the stitching is impeccable, and I think it goes perfectly on top of the quilt that covers our tv stand in our bedroom.
The next treasure I unearthed was tucked away on a far back shelf. It's a tall skinny santa with two creepy little elves. At this point in my shopping trip I had 2 Christmas decorations total and I loved his appeal.
His appeal being that he was a darling find for $4.50 and no one else will have a tall skinny santa quite like mine!